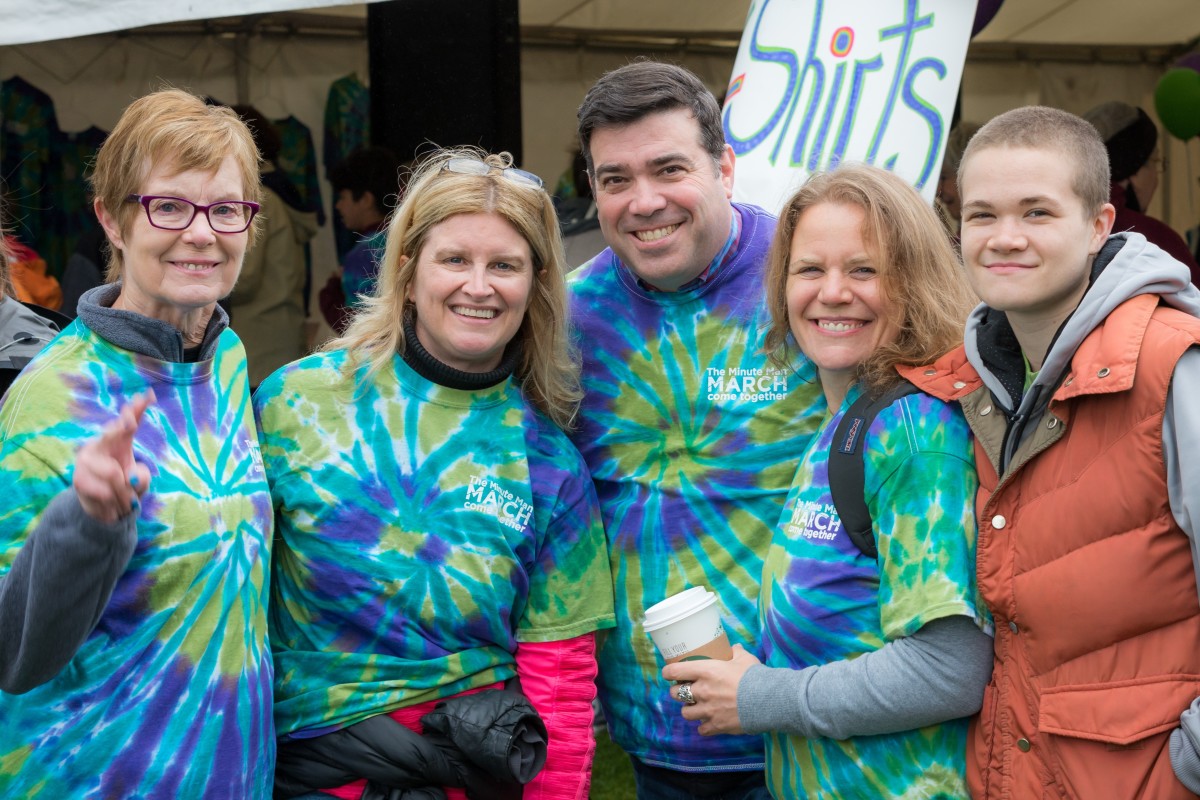 CONCORD-
Crowds in festive tie-dyed shirts gathered on Emerson Field Saturday to celebrate and support Minute Man Arc's 12th annual walk.
The organization provides hundreds of disabled individuals with homes, job opportunities, and education. The walk allows members of the community to show their support by walking through Concord center, join in social festivities and get to know one another.
Walker Nora Mcshane, 39, board member and client of Minute Man Arc, has been working with and assisted by the organization for 17 years, and is now able to live independently because of its support. "I've lived on my own for 10 years," said Mcshane, "I think this is a great thing for everybody."
"I am going to walk three miles this year," said Steve, a Minute Man Arc client who has been participating in the walk since 1999. "Everyone is so nice here."
The organization was started in 1958, and now helps approximately 500 people each year — half of whom are newborn babies to toddlers, and the other half in their teenagers to adult years.
"What I love is how the community comes out to support people with disabilities," said Leo Sarkissian, executive director of the Arc Massachusetts, "It's all about including people."
The CEO of the Minute Man Arc, Jean Goldsberry, agreed. "This is an event that everyone can participate in," said Goldsberry. "It's like a giant party…people
According to Minute Man Arc Director Stephanie Parish, "[the event] grows every year" and "the whole community drives it to be bigger and bigger." This is her fifth year with the organization. "I is helping to give a voice to people who might not otherwise have one," she said. "I really like what I see."
Deirdre Bellevue is at Minute Man Arc and this is her first year with the organization. She has worked in the education field in prior years, and said she is "excited" to be part of the Minute Man Arc so that she may "give back to the community" and "work for a cause."
Following the walk was a celebration with concessions, games and raffles. All of the workers for the event are volunteers, and many of the raffle prizes are donated from members of the community.
Judi Kotanchik spent her Saturday morning volunteering at the raffle booth. "The community has supported us, so we hope people come enjoy," Kotanchik said. Her involvement with the organization began with her daughter, who has been assisted by the organization since childhood and is now 43.
"Kids who are deaf or with Down' syndrome… (are) more accepted," said Kotanchik, "People of Massachusetts should be proud of this wonderful system."
PHOTO: Smiling in their matching tie-dye shirts are, left to right, Minute Man Arc CEO Jean Goldsberry, Sharon Spaulding of the Concord Lions, Concord Police Chief Joseph O'Connor, Leigh Ann Crimmings and Haley Crimmings. Courtesy photos / Lou Genovese
By Briana Cohen/concord@wickedlocal.com
http://concord.wickedlocal.com/article/20160508/NEWS/160506629/0/SEARCH