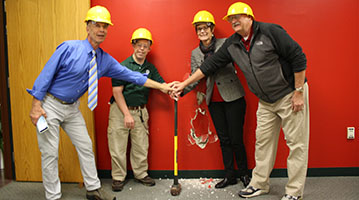 January 5, 2015 – Minute Man Arc is ushering in a new era. Our adult programs and administrative staff will be moving to a larger, brighter and more suitable facility in the spring of 2015.
"We are so excited about this project," said Jean Goldsberry, Executive Director. "After more than a year of looking and preparation, the construction is finally in progress. This new home for Minute Man Arc will provide us with great space for years to come."
The new facility will be located at 35 Forest Ridge Road in Concord. The site is surrounded by trees and walking paths in a lightly wooded area. Paved sidewalks lead to nearby stores, restaurants, an indoor skating rink and a community health club. Once completed, the new Minute Man Arc facility will increase synergy among programs and enable the agency to grow in the future.
Some necessary renovations began in December and will continue throughout the winter months. Ben Hubley, a member of Minute Man Arc's Employment and Residential Programs, helped kick off the building project by breaking through a wall leading into the main room. He was joined by Executive Director Jean Goldsberry, Operations Director Eric Boroush, and Board Member David Holdorf. Improvements will include an accessible entryway with a double door, more bathrooms, a larger and better equipped Day Habilitation room, and small quiet spaces to ease sensory problems.
The community will be invited to view Minute Man Arc's new home in the spring
Mission: Minute Man Arc is committed to enhancing the quality of life for people with developmental disabilities of all ages. We strive to enhance their inclusion in the community, to maximize personal choice and decision-making and to support them in reaching their full potential in all areas of their lives. 
Website: www.minutemanarc.org