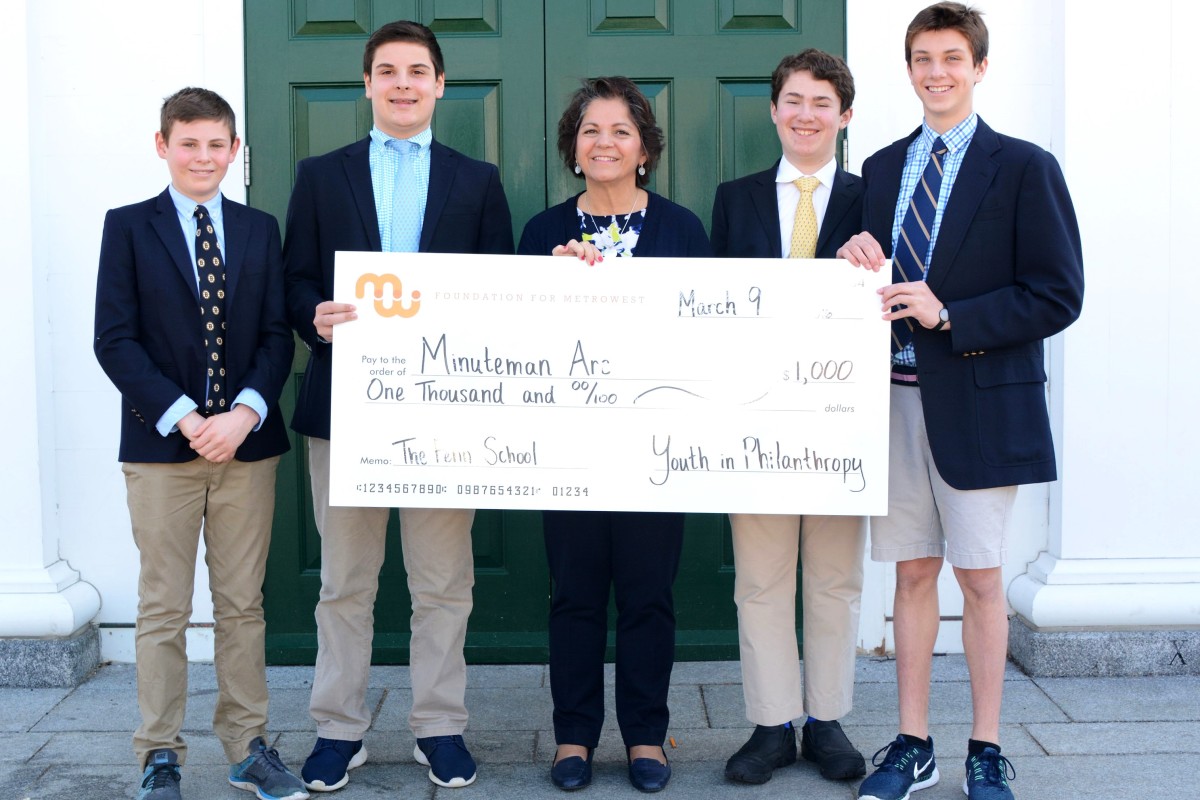 March 11, 2016
Through months of learning about non-profits and researching area organizations that its members might support, the Youth in Philanthropy group, comprised of seventeen boys in the ninth grade class, "learned how to compromise, which took effort because we all have strong opinions," said Max Steinert, a YIP member. "And we learned that no matter what size donation you give to a non-profit, it can make a difference,"
The YIP group was led by Veronica Jorge Curtis, Fenn's director of advancement, and Bobby Nasson, alumni giving and engagement officer, with assistance from Derek Boonisar, associate headmaster and head of the Upper School. The boys met once a week over breakfast throughout the fall and winter and made several site visits before deciding to support The Food Project, Resiliency for Life, More than Words, and Minuteman Arc.
Fenn has been involved in the Youth in Philanthropy program run by the Foundation for MetroWest for many years. The Foundation provides local young people the knowledge to become leaders in the community by learning the importance of philanthropy and the needs that exist right in our backyards. The funds donated by the student groups are provided by the Foundation, though it's generous donors and sponsors.  Also present when checks were presented was the Foundation's Youth in Philanthropy program officer, Jennifer Ubaldino. Fenn is one of several schools in Concord to participate in the Youth in Philanthropy program.
Fenn's YIP group presented checks that totaled $9000 to the four area non-profits on March 9, explaining during All School Meeting what each organization does and why the group chose to support it. Accepting the checks were Peter von Mertons of The Food Project, which works with teenagers and volunteers on 70 acres of land in eastern Massachusetts, including a farm in Lincoln, to produce food for hunger relief organizations; Kylie Stone and Naomi Parker from More than Words, which empowers youth who are in foster care, court-involved, homeless, or out of school to take charge of their lives by taking charge of a business, including a bookstore and café in Waltham (two of the young people who are involved with More than Words attended the check presentation); Jog Chokshi, executive director of Resiliency for Life, a voluntary academic intervention and dropout prevention program that develops skills and confidence in students with social difficulties who are at risk of academic failure; and Stephanie Parrish, director of marketing and development for Minuteman Arc in Concord, which offers programs and services for children and adults with disabilities.
The Fenn YIP members this year were ninth graders Tyler Arle, Peter Blau, Colin Cunningham, Sam Farley, Callan Fries, Jake Harvey, Owen Johnson, Matthew Kirkman, Bennet Kracz, Lucas Lisman, Patrick Lessard, Mark Reiss, Pat Romeri, Matt Sanders, Thaddeus Scheibe, Max Steinert, and Liam Tasker.