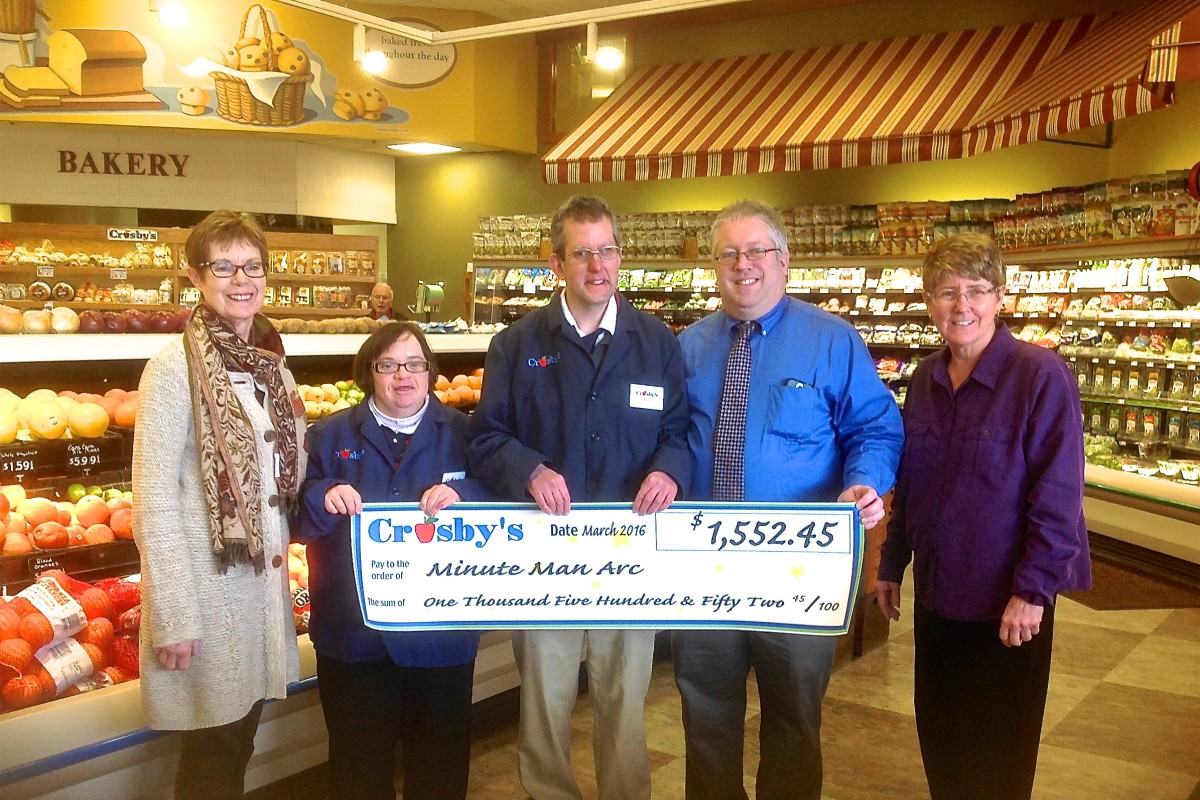 March 31, 2016 – How do you save the environment and support people with disabilities at the same time? Simply shop at Crosby's Market in Concord and bring your own bag.
For the past two years, Crosby's has been offering shoppers five cent tokens for every reusable bag at checkout. These shoppers have placed more than 30,000 tokens in the Minute Man Arc coffer and, on March 23rd, Crosby's presented the agency with a generous check for over $1,500.
"We are honored to be a recipient of Crosby's environmental initiative," said CEO Jean Goldsberry. "It is especially meaningful as Crosby's has been hiring individuals in our Employment Program for more than 25 years. Their commitment to the people supported by Minute Man Arc is outstanding within the Concord community."
"Crosby's has long been associated with Minute Man Arc," said Crosby's store manager John Cummings. "With the Crosby's Reusable Bag Program, we are tying our commitment to Minute Man Arc and the environment together."
Minute Man Arc's Employment Program provides creative and effective job opportunities for people with disabilities in eastern Massachusetts. In addition to securing meaningful, paid employment, the agency supports adults with disabilities through career planning, job skill practice, volunteer assistance, and transportation.
Photo: (L-R) Minute Man Arc CEO Jean Goldsberry, Ann Murphy, David Inferrera, Crosby's Store Manager John Cummings, and Barbara Jean White, Minute Man Arc's Employment Services Director
Mission: Minute Man Arc improving the lives of children and adults with disabilities by increasing independence, personal choice, and self-advocacy.