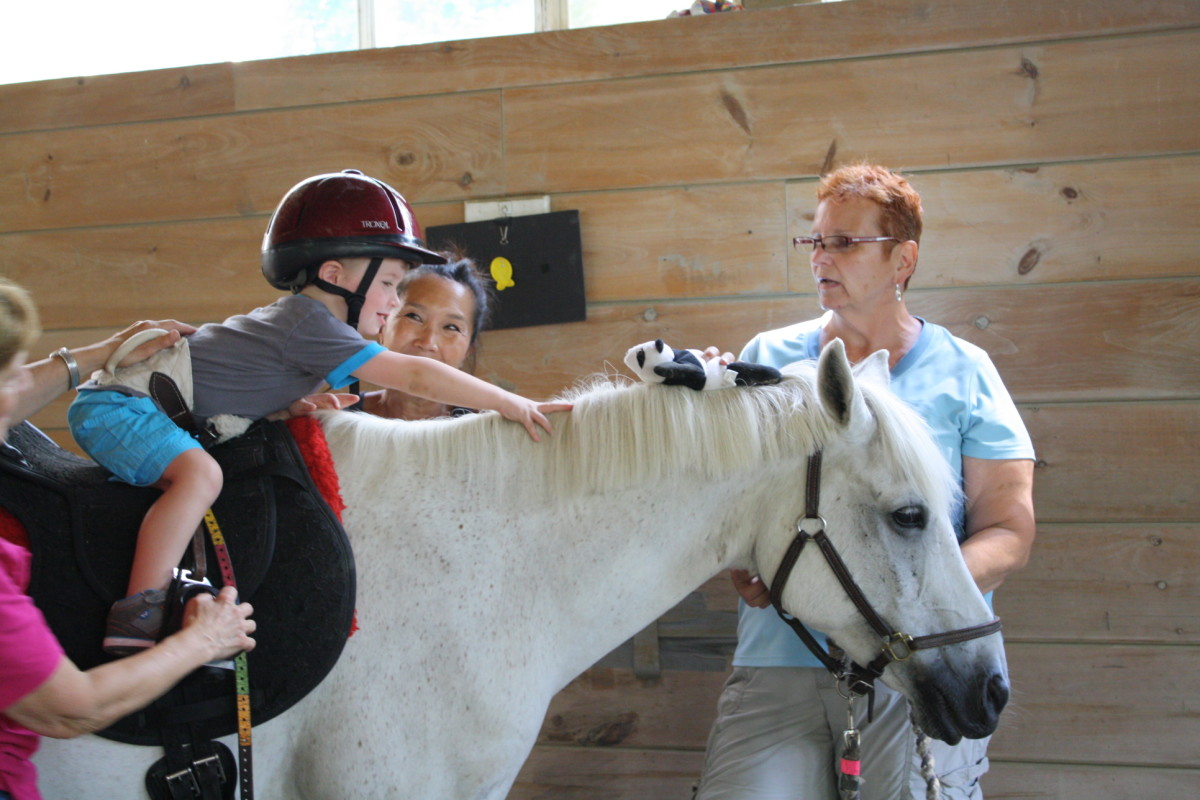 August 5, 2015 – Minute Man Arc today announced it received a $4,131 grant awarded by Youth in Philanthropy students as part of Foundation for MetroWest's Youth in Philanthropy Program. This critical support will help fund Minute Man Arc's hippotherapy program – a unique horse led therapy – benefiting children with developmental delays and disabilities.
"We are fortunate and honored that Youth in Philanthropy students saw the importance that hippotherapy can make in a child's life and chose Minute Man Arc's Early Intervention Program as a recipient," said Alex Chatfield, Director of Early Intervention. "Being able to offer hippotherapy as an affordable option for parents mean that we can continue to provide innovative and effective therapies to the many children we serve."
The Early Intervention Program serves more than 400 children each year and provides a range of therapeutic services for children from birth to three years for whom there are developmental concerns. Services are provided individually in the home, in integrated playgroups, and in community settings. In addition, Early Intervention offers parents support and specialized services for children on the autism spectrum and those who are deaf or hard of hearing. Minute Man arc is the only Early Intervention program in the state with a specialty hippotherapy program.
Community members can see how the Foundation for MetroWest's grant and local funds are benefiting Minute Man Arc's Early Intervention Program at www.minutemanarc.org
"Students who are part of the Foundation's Youth in Philanthropy Program felt the hippotherapy program at Minute Man Arc was an integral part of Early Intervention therapies for children with developmental delays and disabilities," said Jennifer Ubaldino, Program Officer at the Foundation for MetroWest. "The Foundation is pleased to be supporting programs that are dedicated to improving the quality of life throughout the 33 communities we serve."
About Minute Man Arc
Established in 1958, Minute Man Arc changes the lives of children and adults with disabilities through therapeutic services, employment, recreation, housing and community involvement. We serve more than 500 individuals yearly across the communities of Acton, Bedford, Boxborough, Carlisle, Concord, Lincoln, Littleton, Maynard, Stow and the surrounding area. Since inception, we have grown to offer a wide range of programs and services including Early Intervention, Recreation & Family Services, Employment Services, Day Habilitation and residential Services. For more information, please visit www.minutemanarc.org or call (978) 287-7900
About Foundation for MetroWest
Established in 1995, the Foundation for MetroWest is the only community foundation serving the 33 cities and towns in the region. We promote philanthropy in the region, help donors maximize the impact of their local giving, serve as a resource for local nonprofits and enhance the quality of life for all our residents. Since inception, the Foundation has granted $10 million to charitable organizations and currently stewards more than $15 million in charitable assets for current needs and future impact. To learn more, please visit www.foundationformetrowest.org or call (508) 647-2260