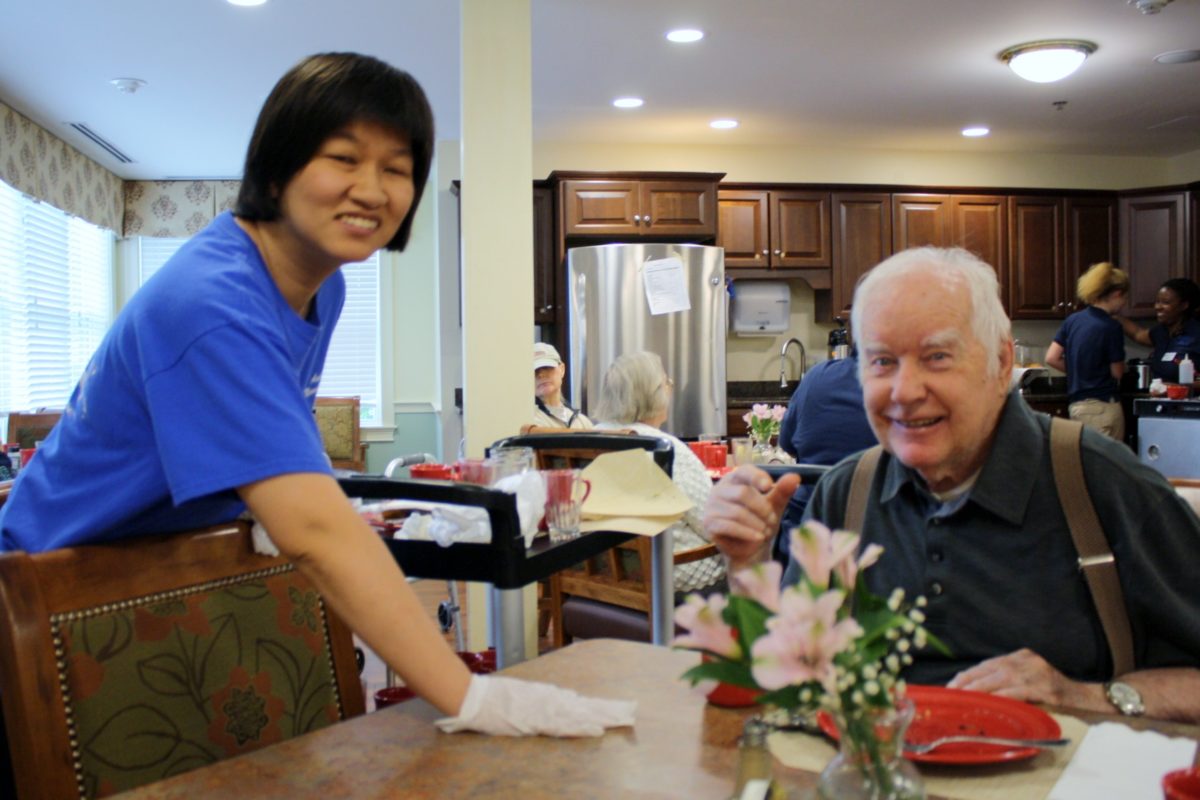 Bedford Minuteman 1Feb17-
Like many young people, Bedford resident Laura Johnson works two jobs. In addition, Johnson has volunteered for the last three years at Benchmark Senior Living at Robbins Brook in Acton every Tuesday.
Johnson, who has Down syndrome, has worked at Roche Brothers Market in Acton for the past 18 years, and she is quick to point out her duties at the store and her enjoyment of interacting with customers.
"I bag the groceries, carry the bags and do the baskets," Johnson said. "I really like talking with the people."
Johnson began working at Roche Brothers through the Acton-Boxborough Regional High School Occupational Development Program and after transitioning out of the program she began working with Minute Man Arc. Minute Man Arc is a Concord-based non-profit organization that works with residents from Concord and surrounding communities with intellectual and developmental disabilities and assists in employment, community involvement and recreational opportunities.
Johnson also recently acquired a second job, at Quiet Logistics in Devens, where she works in the packaging and distribution center. Topping off her busy workweek is her volunteer work at Benchmark Senior Living at Robbins Brook, where she helps serves meals and spends times with the residents.
"Laura comes every Tuesday and brings a wonderful, contagious smile," Lauren Sepe, Harbor Care director at Benchmark Senior Living at Robbins Brook said. "She is really flexible and is always willing to sit down with residents if they are having a hard time."
When she isn't working or volunteering, Johnson enjoys going out to eat with her family and housemates, or traveling into Boston. One of her favorite activities is going to the movie theater and Johnson isn't picky about what she sees.
"I like all movies," Johnson said.
One thing that is consistent about Johnson is the positive effect she has on people around her.
"We love having her here," Deirdre Bellevue of Minute Man Arc said. "She is well-known around Minute Man Arc, she has been coming here for nearly 17 years and is well liked by everyone."
"We love having her here because it makes us all appreciate being in the moment," Sepe said. "That is her spirit, just living in the moment and she has developed a close relationship with certain residents because of her personality."