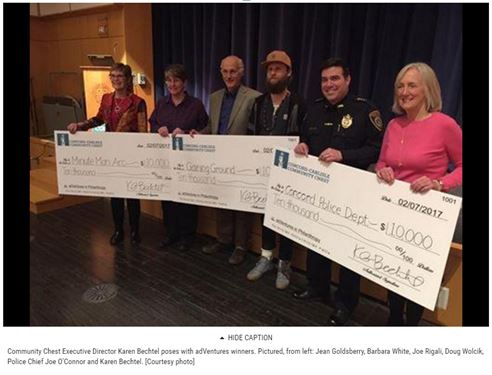 Concord Journal –
It was an incredible night for the Concord and Carlisle community.
On Wednesday, March 8, the Community Chest awarded $10,000 each to Minuteman Arc, Gaining Ground and the Concord Police Department from its Cornerstone Fund for new, innovative programs.
The inaugural community event was held at the Fenn School, with each winning organization presenting their programming ideas to an audience filled with community members, business representatives and organization supporters. Jill Block, Lindsey Parker and Geoff Trussell served as panelists at the event, first reviewing finalists, then making final funding determinations. Ed Wilson acted as moderator, adding his wisdom and wit to the event. Panelists Mark Bamford and Tom Aley were unable to attend the event, but contributed to the evaluation of the proposals.
The evening marked the culmination of a six-month program designed to generate innovative solutions to current human services issues. Launched in September, the challenge generated 12 proposals from a range of nonprofits that serve the community. The initiative challenged local nonprofits to identify areas of need and develop proposed solutions. The culminating event, envisioned as a kinder version of "Shark Tank," showcased the three winning organizations and celebrated the chest's history of funding innovative programming.
The Concord Police requested funds for crisis intervention training.
"We firmly believe that our training program will ensure that officers develop both new skills and advance skills to support their responses to those struggling with mental health difficulties and substance abuse," said Chief Joseph O'Connor.
Jean Goldsberry, CEO of Minute Man Arc, stated, "We are thrilled to be a winner of adVentures in Philanthropy. With this grant, we will be piloting a high-tech internship program for young adults with autism and creating career paths to success."
Gaining Ground was awarded funding for a movable hoop house to extend its growing season.
"We need to appreciate the fabric of support that the Concord-Carlisle Community Chest provides for this community. Thanks to it, the local social fabric is strong," Gaining Ground Board President Joe Rigali said.
The evening also included an award presentation by chest board member Dr. Henry Vaillant to Cornerstone Fund founder Mary Johnson in recognition of her years of leadership. Vaillant spoke about the wisdom and courage of the initial founders who created the Chest almost 70 years ago.
Students and adult audience members were also asked to vote for their fan favorite with two additional gifts of $1,000 awarded to a favorite presenting organization. The announcement of Minute Man Arc as winner as both the student and adult fan favorite was met with cheers by audience members served by Minute Man Arc programs. -By Submitted by Liz Harvey